Affording Treatment
IVF FLORIDA Reproductive Associates – Fertility Financing Options
Our patients should never have to choose between ensuring a secure financial future and receiving high-quality reproductive assistance. Because many individuals are without insurance coverage for advanced infertility care, IVF FLORIDA Reproductive Associates has partnered with IntegraMed® to offer low-interest financing for every type of infertility treatment. For eligible patients interested in financing the cost of treatment, IntegraMed® offers the Attain™ IVF Program, which aims to maximize a participant's chances of success with IVF (in vitro fertilization) while simultaneously minimizing their risk of financial loss.
Bringing U Maternal Paternal Success - B.U.M.P.S. Inc.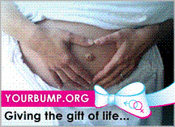 B.U.M.P.S, Inc. is a federally tax-exempt charitable organization that raises money to assist couples in need of fertility treatments. In 2005, more than 52,000 infants were born from Assisted Reproductive Technology. For couples who face rejection by clinics due to affordability, B.U.M.P.S offers hope for the gift of life. With our dedication and your generous support, our goal is to bring maternal and paternal success – one bump at a time. For more information, please visit our website at www.yourbump.org.
Step Ahead™ IVF – Need Based Discounted Services
We understand the cost of fertility treatment can be overwhelming for many people and that sadly the decision to pursue care often comes down to the bottom line of affordability. The Step Ahead™ IVF Program is designed to help make fertility testing and treatment more affordable by offering discounts to patients who have little or no insurance coverage and limited personal resources to cover the out-of-pocket expenses. It is our hope that through the Step Ahead IVF Program more patients will be able to receive the treatment they need to help them achieve their dream of parenthood. To learn more about Step Ahead or any other program, contact a financial counselor today.
Contact Our Fort Lauderdale-area Fertility Center for More Financing Information
If you would like to pursue IVF or other fertility treatments but are concerned about the cost, contact a financial counselor at one of our Fort Lauderdale, Florida area fertility centers to learn more about IntegraMed® financing solutions.